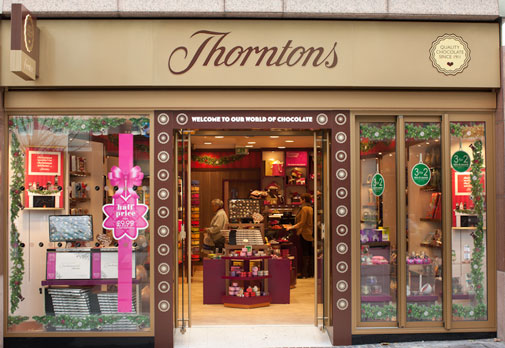 A new concept for Thorntons, the UK's most famous high street chocolate shop.
Opening in late Autumn 2011, the new concept store features a range of new ideas:
A reworked central self-selection chocolate servery, bringing choice and range to the customer.
Options throughout the store to bring new gift ideas into every day of the year.
A new play on 'pick'n'mix' a tube sweet wall for for tweenagers using the more sophisticated 'Moments' range.
A new 'round the store' point of sale scheme that can be updated depending on time of year which allows the look of the store to be changed overnight.
More focus on differentiating the wide range of sub brands as well as showcasing different products in different ways
A fresher gold store front to create a modern look with ties to Thornton's nostalgia.
This firsts concept store has proved very successful:
This store has exceeded my expectations as a gifting store.
Jonathan Hart – Chief Executive – Thorntons
Shortlisted in the 'Best Small Store' category of the Retail Week Retail Interiors Awards 2012