History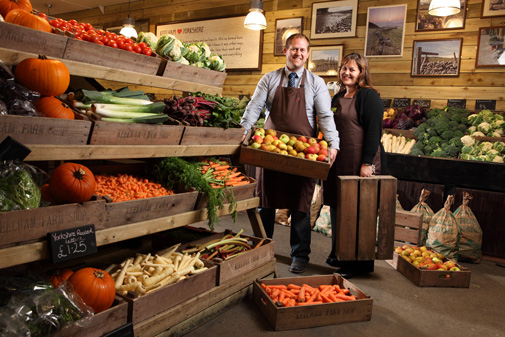 Victoria and James Robertshaw's Father set up Keelham Farm Shop in the early 1970's, since then it has grown into a thriving well known local retailer. Driven by the passion of the brother and sister team, they really believe in supporting their community and bringing top quality affordable food to everyone.With 400 plus Yorkshire suppliers it has become a genuine alternative to supermarkets in the area.
James is not only a Farmer but also an expert Butcher. Skill that has driven this side of the business, probably the largest butchers in Yorkshire and the mainstay of the shop together with the fantastic Fruit and Veg.
But Keelham is not just a farm shop but a large working farm, it has an animal croft, plus a huge garden centre and florists which houses many events through the year.
Challenge
We were asked to assist with the short term refurbishment of their store, creating a new environment that developed further the idiosyncratic Keelham brand whilst displaying their products better and increasing products choice into their 6,500 sq ft store, including being very mindful of the cost.
Keelham is a dynamic and constantly evolving environment with activities and promotions playing a major role throughout the year.
Solution
As usual we went through the whole offering with them, and together identified the areas with the greatest potential growth and the areas we could rationalise to give the customers what they wanted but gain space. There was an opportunity to expand the Deli but also to increase the number of 'ready meals' provided by the Butchers. The beer and wine offer also needed a fresh identity to communicate their CAMRA Award winning beer collection.
Following this insight section of our work we spent time with the team trying to understand what makes Keelham individual – it really is like nothing else, a very eclectic personal feel but also very trend aware.
Finally we came up with a concept that embodies the atmosphere of the farm and a home made feel. We used simple low cost finishes throughout and a very natural colour scheme with fresh highlights. We extended both the butchers and the deli, and refurbished all the other key areas resulting in a very individual feel and allowing the space to celebrate their local suppliers, even providing room for a mini farmhouse kitchen in the centre of the store to run their tastings from.
During the development period we did lots of experimental work with unitary, they have a joiner on site who built the 'experiments' for us. This enabled us to test different configurations and finally implement the units, which worked best for the customer and increase the sales in their already very successful Fruit and Veg area considerably within the same footprint.
Please visit the store if you are anywhere near you will be amazed.
"I originally employed inspire: because of their retail knowledge and interesting blog, but they have brought more than financial awareness to the business, they delivered a fantastic store.
I am so proud of it. They are a very versatile designer with their feet on the ground who really can help build sales and understand the visual needs of a brand, I really think its visually ground breaking"
Victoria Robertshaw