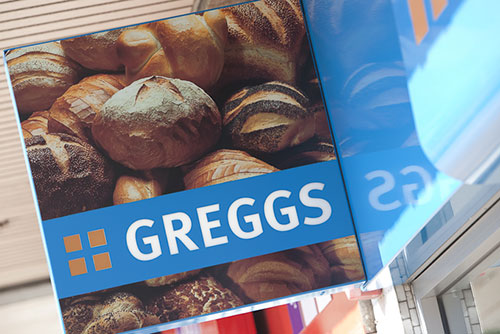 The retail strategy, design and project management of a new prototype store for Greggs.
Key to the project was to listen to customers and increase and enhance the shop floor space giving them more room to browse. This also gave us the opportunity to extend the bakery offer giving city centre customers a greater range of the Greggs fantastic bakery and bread products.
The design of this prototype store uses a warm, rich colour palette and large-scale photographic images taken in one of the Greggs Bakeries to reinforce the Greggs bakery credentials. A roll in fascia sign connects to the wood effect ceiling stripe that leads customers to the back of the store. Seating is arranged at the front of the store and outside and a redesigned counter and new display stands all serve to put the product to the fore. The products are clearly grouped in a logical order for customer selection and the queue location has been designed into the store. The new counter enables us to get more product within the same area creating an abundant bakery wall to select from, developing sales at the till.
Photography by: Ralph Hodgson